Dental Chicken
For Adult Cats
Dry Food
Special Needs
Grained
Complete and balanced nutrition for adult cats
Specifically formulated with sodium tripolyphosphate and vitamin C to help support oral health. Featuring a unique kibble shape & size designed to encourage chewing to help gently clean teeth.
A natural recipe with added vitamins and minerals and no artificial colours or flavours. Made with real fish, rice, fruits & vegetables and natural prebiotic fibre to help provide the best possible nutrition for you cat.
Buy Now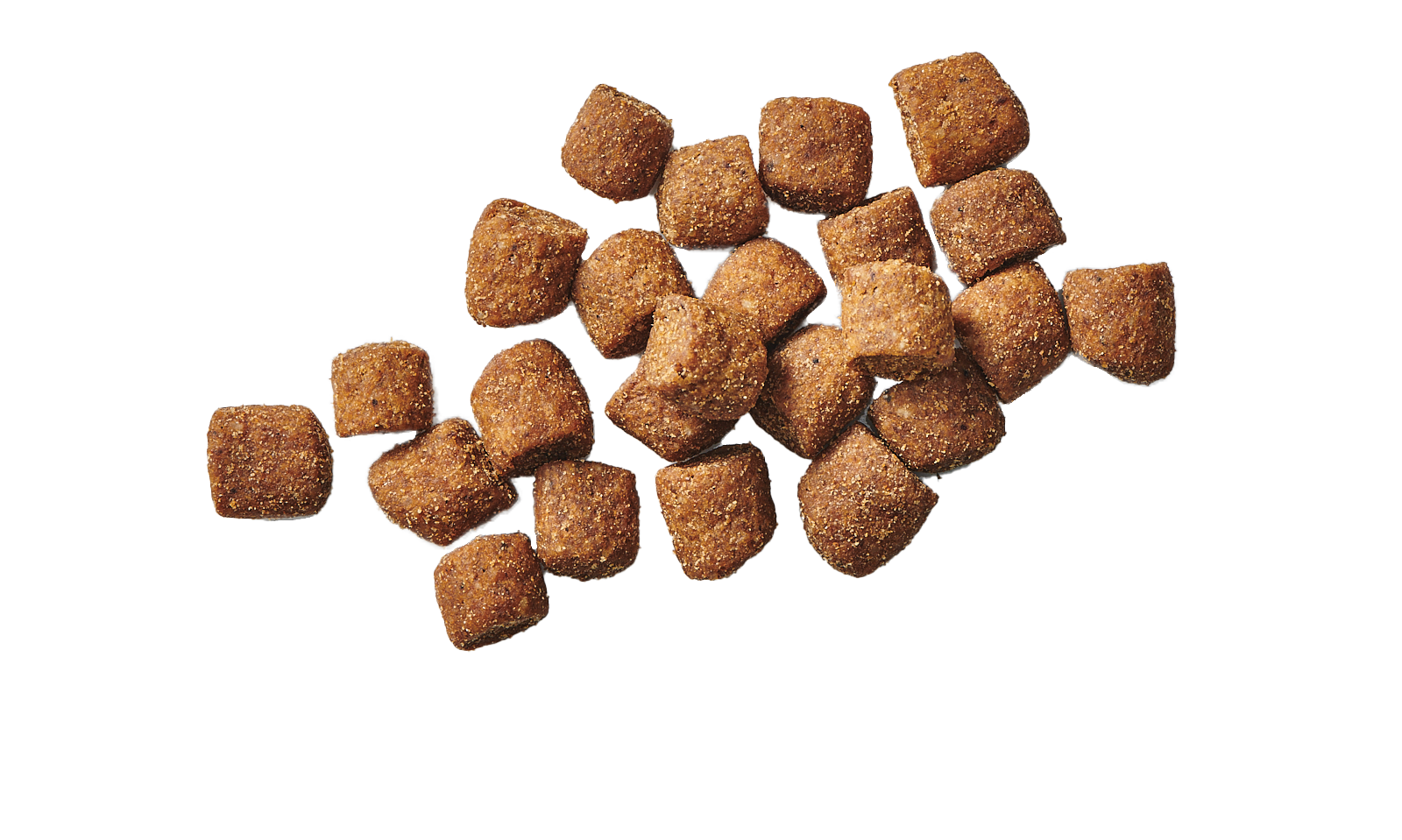 Nutrition: Typical Analysis
| | |
| --- | --- |
| Protein | 30% |
| Crude fat | 14% |
| Crude fibre | 2.2% |
| ME (Metabolizable energy) | 363kcal/100g |
Real Chicken

Natural protein for muscle development and repair

Fruits & Vegetables

Provide natural nutrients as part of a balanced diet

Rice

A highly digestible source of energy

Fish Oil

Good balance of omega fatty acids to help support healthy skin & a shiny coat

Prebiotic Fibre

Prebiotic vegetable fibre to support digestive tract healthy & hep reduce stool odour
Needs of your cat
Care advice
Feeding guide
Ingredients
Complete & Balanced Nutrition

Packed with all the essential nutrients including protein, fats, dietary fibre and added vitamins and minerals for active, happy, healthy lives.

Immune Support

Includes a selected blend of natural antioxidants, vitamins and minerals to help support the immune system.

Healthy Digestion & Hairball Control

Natural prebiotic fibre helps promote the growth of beneficial bacteria and support healthy digestion and hairball control.

Healthy Skin & a Shiny Coat

With omega 3 & 6 fatty acids and zinc to help support healthy skin and a glossy shiny coat.

Bladder Health & Odour Control

A combination of nutrients and minerals which help support balanced urine pH levels important for urinary tract and bladder health. Yucca extract assists with stool odour control.
New to Leaps & Bounds?
If feeding Leaps & Bounds for the first time, mix increasing amounts of the new food whilst decreasing the old food over a period of 7 to 10 days.
Ensure your cat always has fresh clean water.
Store in a dry, cool place away from direct sunlight.
DAY 1 TO 3

25% Leaps and Bounds, 75% existing diet

DAY 4 TO 6

50% Leaps and Bounds, 50% existing diet

DAY 7 TO 9

75% Leaps and Bounds, 25% existing diet

DAY 10

100% Leaps and Bounds
Cat Weight
Daily Intake
Daily Intake
2 kg
50g
1/2 cup
3 kg
60g
1/2 cup
4 kg
80g
3/4 cup
5 kg
90g
3/4 cup
6 kg
110g
1 cup
7 kg
120g
1 cup
8 kg
130g
1 1/4 cups
8+ kg
Add 10g per 1kg additional body weight depending on breed and activity level.
1 cup = 110g
This feeding guide should be seen as a guide only. Your cat may need more or less to maintain its proper weight depending on its age, breed and activity level.
Meat and meat by-products (poultry, beef and/or lamb), cereals (rice, wheat and/or sorghum), tallow and/or vegetable oil, cereal bran, vegetable protein (soya bean and/or field peas and/or faba beans), dietary fibre (rice hulls), essential minerals and vitamins, salt, prebiotic fibre (chicory root, yucca extract and/or beet pulp), flaxseed, sodium tripolyphosphate, essential amino acids (DL-methionine, taurine), fish oil, vitamin C, fruits and vegetables, natural antioxidants.